Kontakt
Fallen Temple
wytwórnia muzyczna i sklep internetowy
NIP: 5732421614


E-mail:

shop@fallentemple.pl

Godziny działania sklepucodziennie 9.00 - 17.00
MONSTRAAT / HINSIDES Split LP [VINYL 12"]
Dostępność: Dostępny
Czas wysyłki: 5 dni
Koszt wysyłki: od 0,00 zł Dostępne formy wysyłki dla oglądanego produktu:kurier DPD - 15,00 złPoczta Polska Kurier 48 (płyty winylowe 12") - 15,50 złodbiór osobisty - 0,00 złOdbiór w punkcie (Poczta Polska Kurier 48) - 13,00 złPaczkomat InPost - 13,00 zł
Stan produktu: Nowy
Split album with Hinsides (feat. M.A. from ULTRA SILVAM) & Monstraat (Swedens uncrowned kings of nekro black metal). Available on LP limited to only 200 copies (black vinyl).
SHADOW RECORDS is proud to present a special split mini-album between MONSTRAAT and HINSIDES on 12" vinyl format.

A pure slab of underground black metal, this split record scours the depths of the Swedish underground to bring together two of the scene's nastiest propositions: MONSTRAAT and HINSIDES. MONSTRAAT have been an insistent if not mysterious force since their formation in the year 2000. Their two tracks here are the band's first recording since their cult second album, Scythe & Sceptre, in 2017 and prove that the duo are as raw & dangerous as ever, locating that ever-elusive balance between violence and misery. Not to be outdone, HINSIDES mark their arrival with two tracks of their own. The band is a brand-new project of ULTRA SILVAM's M.A., and while that band's black metal tends toward the melodic and magisterial, HINSIDES go all in on utter madness and FILTH. Indeed, their tracks are equally dirty as their split-mates, but impart a dizzying insanity that points the way for wild things to come…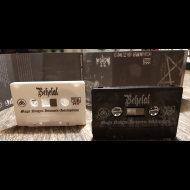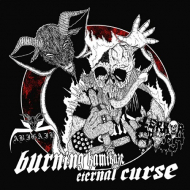 Pozostałe produkty z kategorii
Korzystanie z tej witryny oznacza wyrażenie zgody na wykorzystanie plików cookies. Więcej informacji możesz znaleźć w naszej Polityce Cookies.
Nie pokazuj więcej tego komunikatu